STEAMPRO SOLUTIONS SDN. BHD.COMPANY BACKGROUND
Steampro Solutions Sdn. Bhd. offers total solutions in the area of Energy Conservation and Energy Efficiency via its patented condensate removal and recovery systems. In addition, it also offers its patented chemical free cooling water management system.
We believe it is our moral responsibility to help reduce the effects of global warming while at the same time set new records in energy and cost savings for our clients with our breakthrough technologies in harnessing energy efficiencies. Our products have proven to improve the productivity of our clients while impacting the environment positively through significant reduction in harmful emissions.
One of our key success factors is that we have built a strong network of sales and marketing agents/resellers worldwide. Currently, our products are being marketed in more than 13 countries and we aspire to continue with market and product expansions as our goal is to be a leader in our field providing comprehensive range of products that add values to our clients.
OUR MISSION & VALUES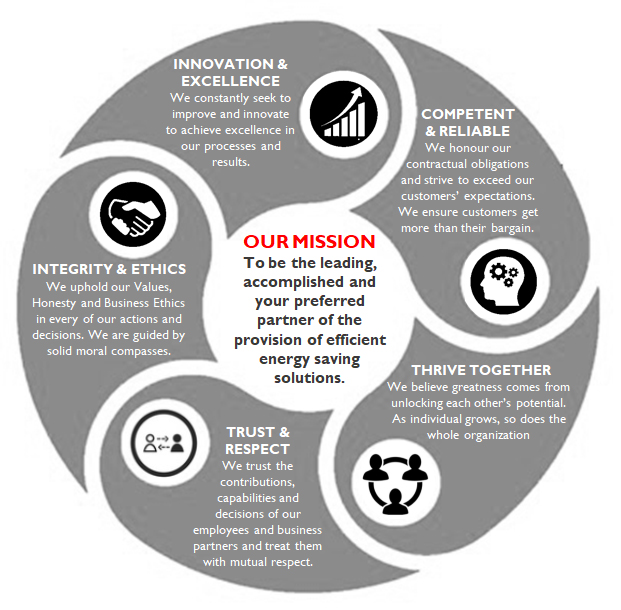 ---
INDUSTRIES WE SERVE
The Company's product and service is targeted at industries and sectors which use steam in a wide variety of processes from the preparation of raw materials to the completion of finished products to heating applications. Some of these major industries and commercial sectors amongst others include:
Oil and Gas Industry
Petrol-Chemical
Oil & Gas
Oleo Chemical
Pulp and Paper
Rubber and plastics related products
Food and beverage
Corrugated Packaging
Textiles
Pharmaceuticals
Electronic Power Generation
Hospitals
Hotels
Refineries
Latex Gloves
Buildings
Laundry Industry